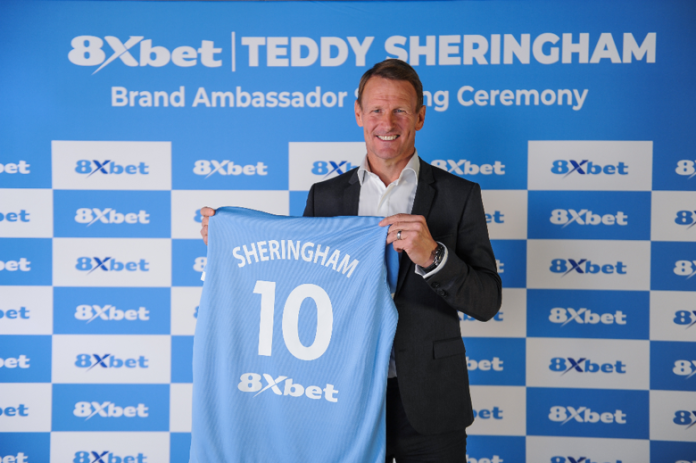 Partnerships between companies and sports figures are part and parcel of marketing in the betting industry, but firms need to consider which athlete or team will make the most impact in certain markets.
Following on from the announcement of 8XBet's partnership with Teddy Sheringham, company Founder Ryan Li spoke to Insider Sport about how the former Manchester United and England striker can help bolster the brand's visibility in the Asian betting scene.
Insider Sport – How will Teddy's reputation as a footballing legend boost engagement with fans in Asia?
Ryan Li – Teddy is a football legend, an icon who is well-recognised and respected globally, and a household name among football fans in Asia.
He is obviously best-known for his time at Manchester United, one of the most popular clubs with supporters in Asia. As a member of the 1999 Champions League winning side – and as a scorer in the final – he is part of football history and has lots more successful experiences from his career which he can share with fans. He played for many great teams and now he's part of another one at 8Xbet that focuses on trust, experience, and service.
IS – What marketing activations can we expect from this arrangement?
RL – Just like when a football club makes a star signing, we wanted to show our pride and excitement and to let everyone know about Teddy joining 8Xbet. So, the first step was to celebrate the partnership with our official signing ceremony, which is featured in our announcement video. 
On an ongoing basis, a key part of Teddy's role with 8Xbet is to use his experience to share video analysis and opinions every week on the biggest games with our customers, social media followers and fans in general.
IS – The Premier League and Manchester United have a huge following in Asia, how can this be leveraged this to your advantage via this partnership?
RL – The Premier League is the highest tier of football in the world, just as we aspire to be the leading sportsbook in Asia. We want to work with and be associated with the best.
Given the teams he played for, how long he spent in the Premier League, as well as the success he had trophies he won, Teddy was always our number one choice when we looked to appoint a brand ambassador and we are delighted that he signed for 8Xbet on a long-term partnership.
IS – What are 8Xbet's ambitions in the Asian market and which countries do you believe have the most potential as you continue to grow?
RL – Our vision is to be the most trusted and fun gaming platform in Asia. It is a region where some countries are still lacking a credible option among the unlicensed platforms and that's what sets us apart. 8Xbet – under the branding of 978 Tech N.V. – is licensed in Curacao, offering protection for players with a fast, safe and secure product.
The company was founded in 2018 and is operational in more than six countries. As home to more than half the world's population, Asia is clearly a huge overall market, and we will look to move into new countries as commercial and regulatory opportunities allow.
IS – In terms of expansion into new markets are you able to detail some of the challenges involved?
RL – There are many factors to consider before entering a new market. It is important to understand the culture of individual regions and countries and typical popularity of certain products, as well as consumers' behaviours and preferences. You need to consider whether the existing offering is easily transferable and can it be marketed in a similar way.